Dry and Wet Risers, Hose Reels and Fire Hydrants Servicing
We only supply the highest quality products and services, which includes our range of dry & wet risers, hose reels and fire hydrants.
We can supply and maintain Dry Risers and fire safety equipment to distribute water to any floor of your building
The Walker Fire (UK) Ltd group of companies can assist with the installation and maintenance of dry riser systems, accounting for any building 18 metres or taller that require direct access to fire fighting equipment on all floors. If you have particular requirements, or wish to speak with an advisor to determine where and how to place risers, hose reels and fire hydrants within your building, we're here to help.
What is a Dry Riser System?
Typically installed in buildings higher than 18 metres, dry riser systems are made up of a water-tight pipe network that feed floors of your building. In the event of a fire, water can be delivered via this system by the emergency services to assist putting out a fire quicker and more effectively.
For most high-rise buildings in the UK, Dry Riser systems are usually located in staircases and use a ground level inlet specifically placed to allow easy access for the fire brigade. In principle a dry riser creates a direct connection between floors, allowing firefighters to attach a hose and fight fire up close, limiting damage to your building.
We have the ability to provide expert advice on Dry Riser placement and installations for buildings of all sizes. Our fire safety engineers create safety systems built to your requirements, with precision, competence and experience. The systems can be fabricated to match your building and then maintained bi-annually to ensure they are ready and waiting in the event of an emergency.
Our highly experienced team can offer a complete design, installation and maintenance service
Designing a Dry and Wet Riser system is something that must be undertaken by a responsible and experienced fire safety team.
By law a Dry and Wet Riser system must have fire engine access within 18m of the inlet box in order to guarantee access and housed within a fire-resistant shaft, to protect the integrity of system when not in use. In the case of most commercial premises, the inlet is usually located under a staircase or ground level fire exit.
Hose Reels
All too often Fire Hose reels can be installed and then forgotten about. With years of experience The Walker Fire Group of Companies can ensure your hose reels are serviced and well maintained.
We provide professional annual maintenance contracts for your hose reels. The hose itself needs to be either pressure tested or replaced every five years. This thorough service ensures that the hose reel with function properly as and when it may be needed.
.
To find out more please contact us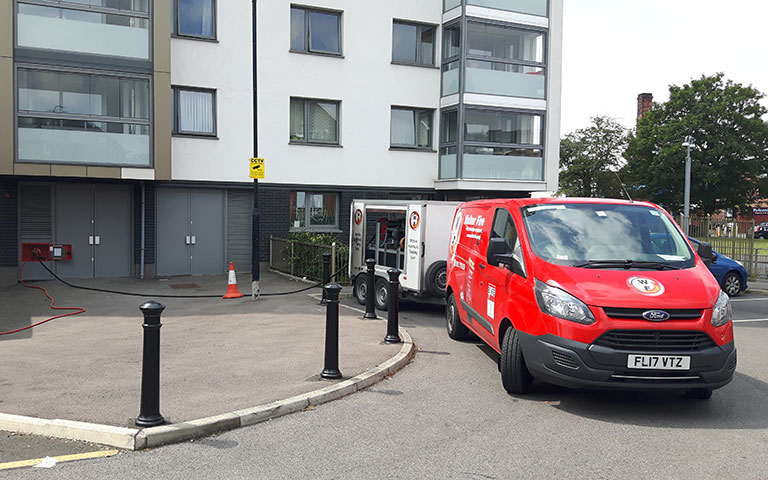 Why are these important?
In many cases, the level of equipment and its placement on site will determine the chances of successfully stopping a fire and limiting potential damage. By ensuring your premises has correctly placed risers, hose reels and fire hydrants, you can potentially equip the fire service with the tools they will need to effectively stop a blaze.
How Walker Fire can help:
We provide free site surveys to determine your current situation.

No obligation quotes.

Recommendations on where to install risers, reels and hydrants for maximum impact.

We supply the highest quality products.

Service agreements for the regular maintenance of products installed.
Our technicians are regularly audited, to assure quality and working standard are in accordance with BS 9990:2015 We cover the whole of the UK and can provide quotations based on site plans.  
Why choose us?
There are many reasons to choose Walker Fire and our quality first approach to fire safety. We're passionate about what we do and strive for nothing short of excellence for our clients
Accreditations
We are a BS EN3 ISO 9001 Registered Company and all of our equipment is kite marked to BS EN3.
Local to you
We have locations strategically placed throughout the UK to ensure we're always best placed to serve your needs.
Don't just take our word for it
In our 75 year history, we're lucky to have worked with some fantastic, conscientious companies who are as passionate about fire safety as we are. Read about a small selection of them in our case studies.